Download Activities Guide Brochure here
Ⅰ Programs for creation of a multicultural symbiotic society
To promote creation of a multicultural society, we are undertaking programs such as information gathering and supplement, consultation and counseling, cultivating human resources and supporting students from overseas.
1. Information gathering and supplement

(1) Running the web site
(2) Issuing TIA's bulletin "Ya!"
(3) Distributing of mobile information in multiple languages

2. Consultation and counseling

(1) Offering a variety of consultations
(2) Management of the human resource database

3. Human resources development

(1) Seminars for the supporters of foreign residents in disaster
(2) Seminars for the volunteer medical interpreters
(3) Supporting Japanese language learning
(4) Seminars for counselors and interpreters
(5) Teaching languages to the local government employees on study leave
(6) Foreign language courses for the residents in Tochigi Prefecture
(7) Cooperation for English test "TOEIC"

4. Supporting Foreigners

(1) Support programs for foreign students
(2) Foreign students support
(3) Foreign residents support
(4) Publishing daily living guide books

5. Promotion of a multicultural symbiotic society

(1) Promotional and educational activities
(2) Running the Tochigi International Center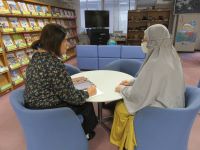 ▲Consultation for foreigners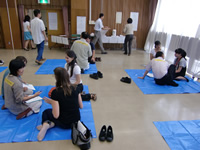 ▲Foreigners Supporters Seminar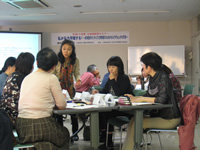 ▲Japanese Teaching Seminar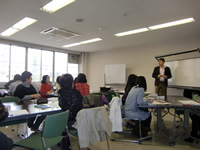 ▲English Language Class
Ⅱ International Exchange Programs
We are undertaking programs to promote international exchanges.
Cooperation and support for the international exchange groups
Supporting foreign residents in Tochigi Prefecture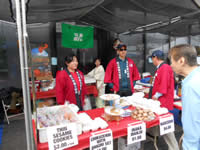 ▲Support for Tochigi Prefectural Associations in other countries.
Ⅲ International Cooperation Programs
We are promoting international cooperation.
Undertaking international cooperation programs
Cooperation with Japan International Cooperation Agency (JICA)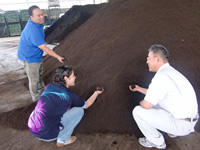 ▲Grass-root Technical Cooperation Accepting trainees
Ⅳ International Understanding Programs
We are undertaking programs to assist with international understanding.
Supporting International understanding programs
Tochigi Global Seminar
International Education Seminar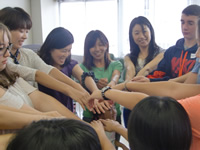 ▲Tochigi Global Seminar